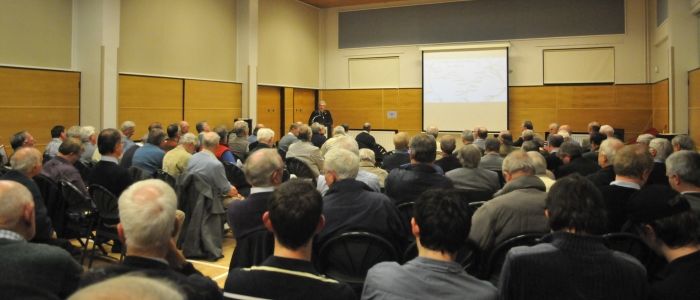 Exhibitions
The RPSI has been running monthly meetings in Belfast, during the winter months, continually since February 1974.
Guest speakers from all corners of Ireland and beyond have enthralled our audiences with tales of all things railway – broad and narrow gauge – mostly steam with many pictures from behind the scenes. Hundreds of slide shows and miles of movie film and video have revealed every corner of the island's railway network to consistently large audiences, reputedly the largest in these islands.
Please download and display/advertise the meetings programme.All Welcome!
15th October 2018
(1) The Founding of Railway
Philip Donald  presents the history of this long-abandoned line and details the tragic events of 1889 which led to immediate worldwide changes in railway management and procedures. 
(2) Tour of Our The Train
Joe Cassells  uses pictures by the late Des FitzGerald to recall the last days of steam on this part of the main line when a variety of GN locos shared turns with NCC Moguls and Jeeps.
19th November 2018
History of Railways
Charles Friel  marks the centenary of the Armistice with this review of the life and times of two Irish Ambulance Trains – one based in Dublin and one in Belfast – which roamed the system to bring home casualties from the conflict in Europe. Includes many previously unpublished photographs and diagrams of these almost-forgotten trains – and some very recent discoveries.
06th December 2018
(1) Architecture of the GNR(I)
Siobhan Osgood  reviews the evolving styles of architecture used across the GNR(I)'s network with photographs and digitised original drawings from the IRRS archive. 
(2) Building for the Future
Peter Scott  brings us up to date with the challenges and achievements at Whitehead of providing a spare boiler for Jeep No.4 – and the possibility of having an NCC Mogul on our books. Find out more!
9th January 2019
Macha Film Studios Presents
John Friel  shares some vintage footage of steam trains in Ireland including Sunday School excursions from Portadown to Portrush in 1966, and RPSI railtours – the Killultagh of 1967 and the Slieve Cualann of 1968 – to the last NIR steam-worked passenger trains on the Larne line in 1969. From more recent years, we go behind the scenes with footage of Society steam on the main line – all the way from humble ballast workings to a Royal Train!